Don't Miss The Rip Roarin' Rodeo Action In The Fairgrounds Arena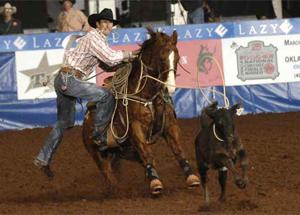 Rodeo week officially began on Wednesday, July 6th with the annual Rooftop Rodeo Parade. With over 60 entries it was a colorful start to a fun-filled week of rodeo. The theme of the 2016 parade was "How 'Bout Those Broncos!"
Rodeo Information
Gates to the fairgrounds open every evening at 5:30 p.m. Come browse the midway and shop a wide variety of vendor booths, watch special entertainment, and enjoy some great food and beverages in a true western atmosphere.
Sign up for our Behind the Chutes tours at 5:30. It's your chance to venture out to where all the action happens. You'll meet the stock contractor, contestants and arena crew. Get an up close and personal tour of the arena equipment, see the livestock and meet the clowns. It's a great time to ask questions and to learn more about the sport of rodeo from the pros themselves. Last year, the Chutes tours sold out every night, so be sure to get your tickets early! If you have a party of 20 or more, we may be able to arrange a special tour for your group. Call 970-577-3920 for more information. Please note that the tour will take you through areas of loose dirt (sometimes mud), so please wear appropriate shoes. Flip flops or expensive shoes are probably not a good idea!
Make sure to grab some tasty chow and a cool beverage, meet old and new friends, and settle in for a great Rooftop Rodeo evening.
Friday night is "purple" night in awareness of domestic abuse.
Saturday night is "pink" night to raise awareness of breast cancer.
PRCA Rooftop Rodeo
(July 6-11, 2016)
Gates open every evening at 5:30 p.m. Visit vendor booths, browse displays, food & beverages available. Come early to get the best seats!
Behind the Chutes Tour – 5:30 p.m.
Rodeo evening kickoff show – 7:00 p.m.
PRCA Rooftop Rodeo – 7:30 p.m.
Bareback bronc riding, Tie down roping, Saddle bronc riding, Steer wrestling, Team roping, Barrel racing and the ever popular Bull riding are among the PRCA sanctioned events that will entertain each evening's audience. Don't miss the antics of this year's rodeo clown or watch future cowboys and cowgirls in action during the mutton bustin' and calf scramble events. Join us for one of the most scenic rodeos in America, in a first-class arena nestled in the heart of the Rocky Mountains!
You can find out more about the Rooftop Rodeo by visiting rooftoprodeo.com